Gulf Shores'

Local roof installation Professionals
Roofing World has the Biggest Selection, Lifetime Warranties & Best Prices… Guaranteed!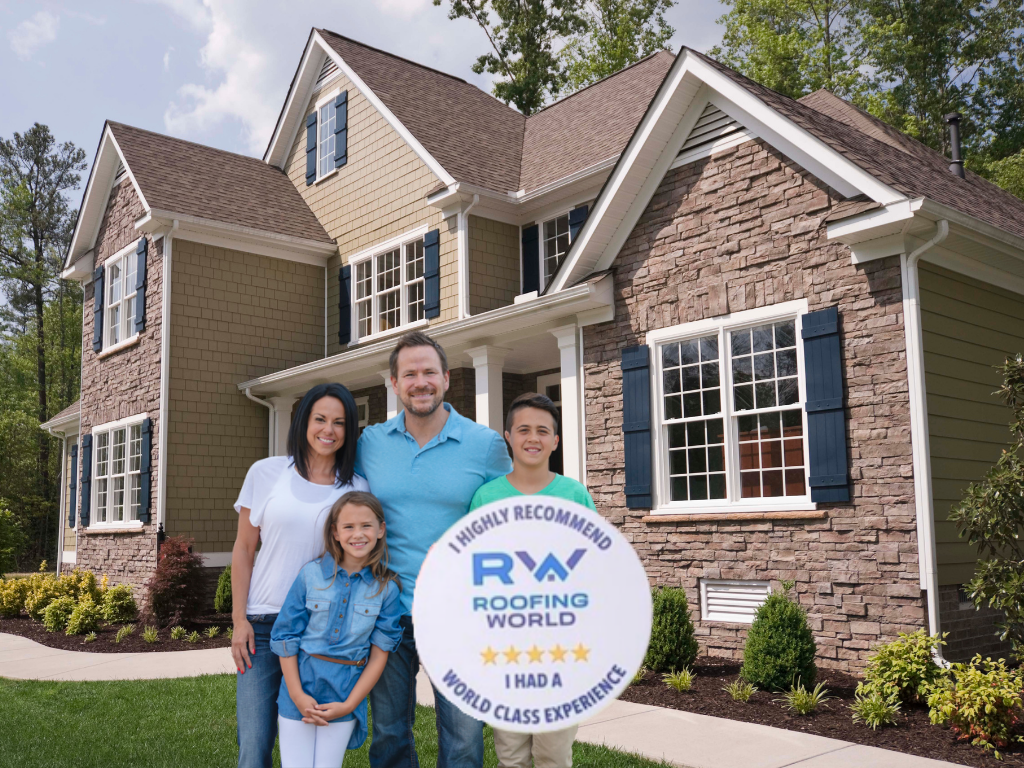 Gulf Shores's Top Rated roofing Contractor
Are you looking for a new roof ? Our team of certified professionals are here to help with all of your roofing needs. The team at Roofing World offers a wide range of quality materials and styles including standing seam metal roofing, Poly Shingles, stone coated steel, rib panel roofing, and so much more.
Just a Few of the Services We Offer:
Residential roof replacements
Poly Shingle installation
Asphalt shingle replacements
Metal Roof Installation
Gutter Installs
Gutter guards
Our team uses only the highest quality materials, top-of-the-line products, and tried and true methods. Contact your local professional roofer in Gulf Shores, AL today to get started. A helpful and friendly member of our staff would be happy to answer all of your questions.
Industry-Leading Metal Roofing Standards
Metal roofing systems have become a very popular choice among property owners mainly due to their ability to handle sever weather conditions. We offer a selection of different styles of metal roofs including standing seam and rib paneling.
Standing seam metal roofing is great for incredibly secure protection against the outside elements. That's because this particular style uses concealed fasteners which offer air-tight protection.
Rib panel metal roofing is similar to the standing seam option however you will not get the concealed fasteners. This option is ideal for low-sloped roofs.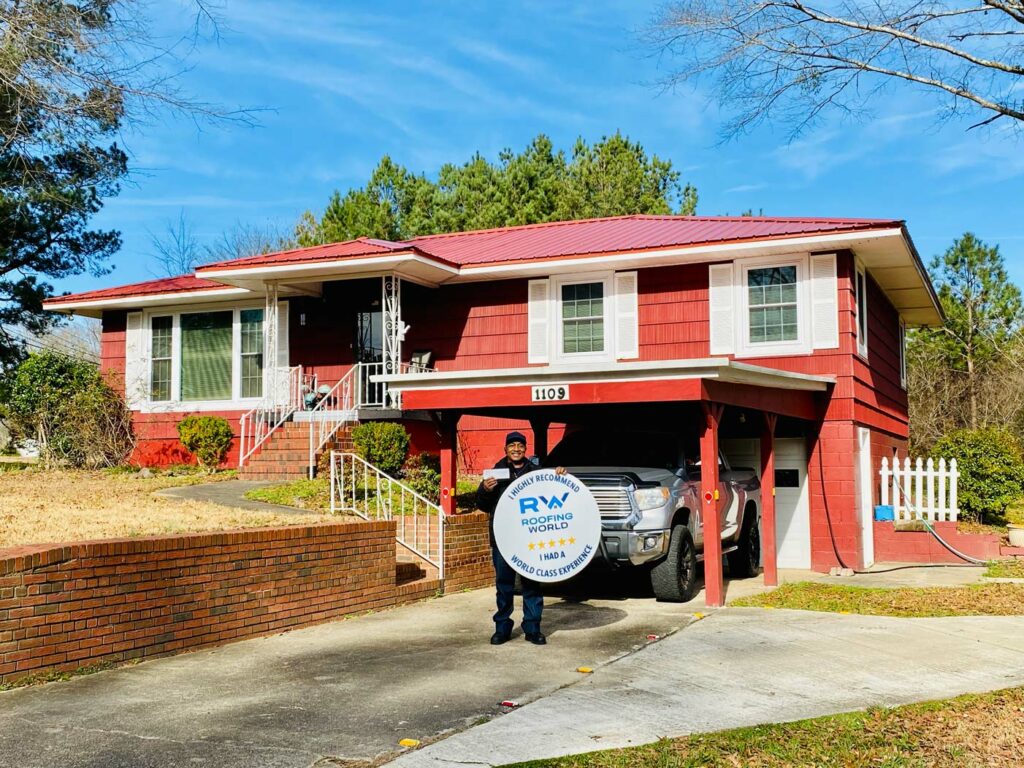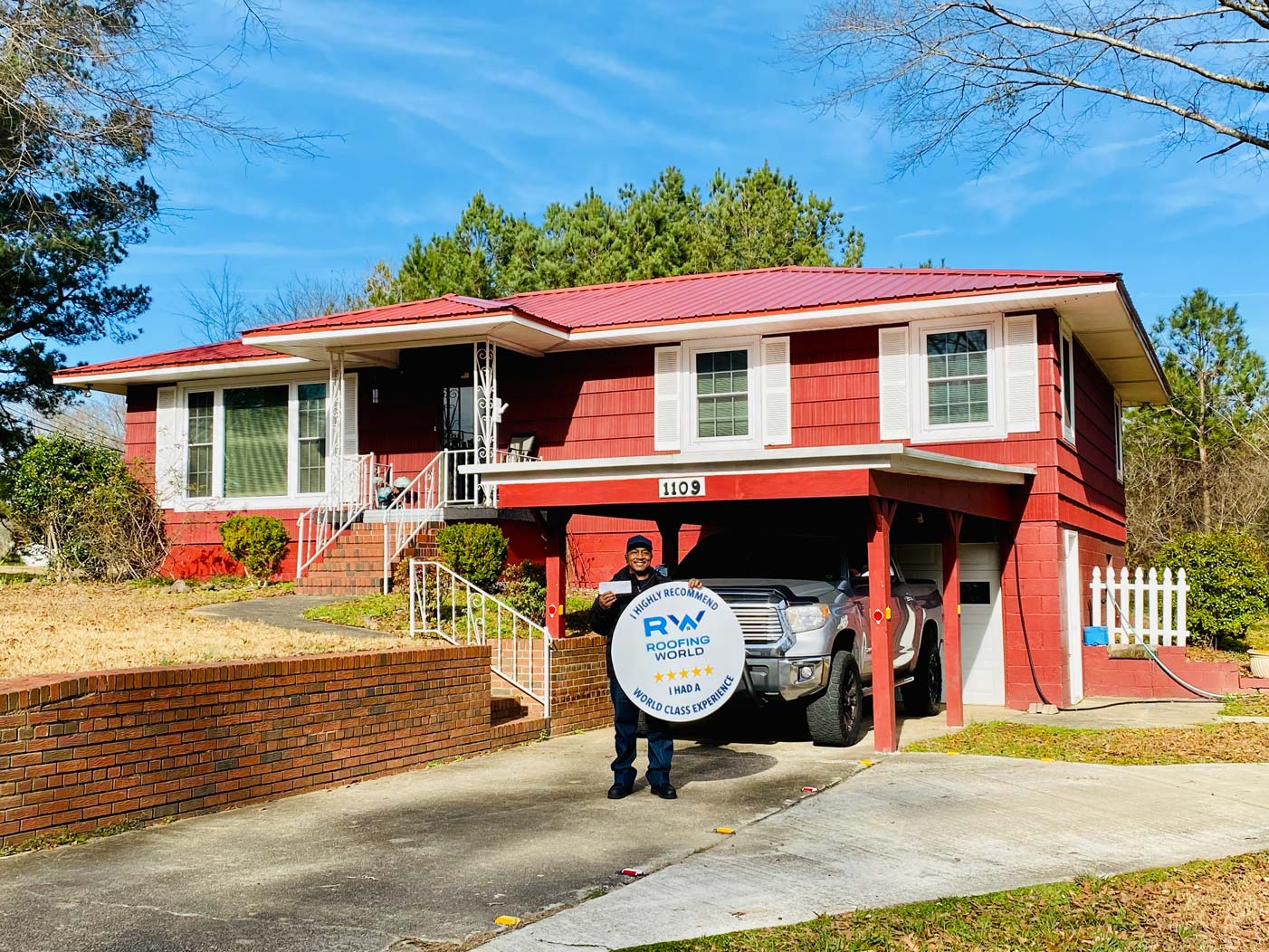 When you need a metal roof replacement, you'll get the very best our talented team has to offer. Get started on your metal roof project in Gulf Shores, AL by calling us and setting up a consultation.
What are the Benefits of Poly Shingles?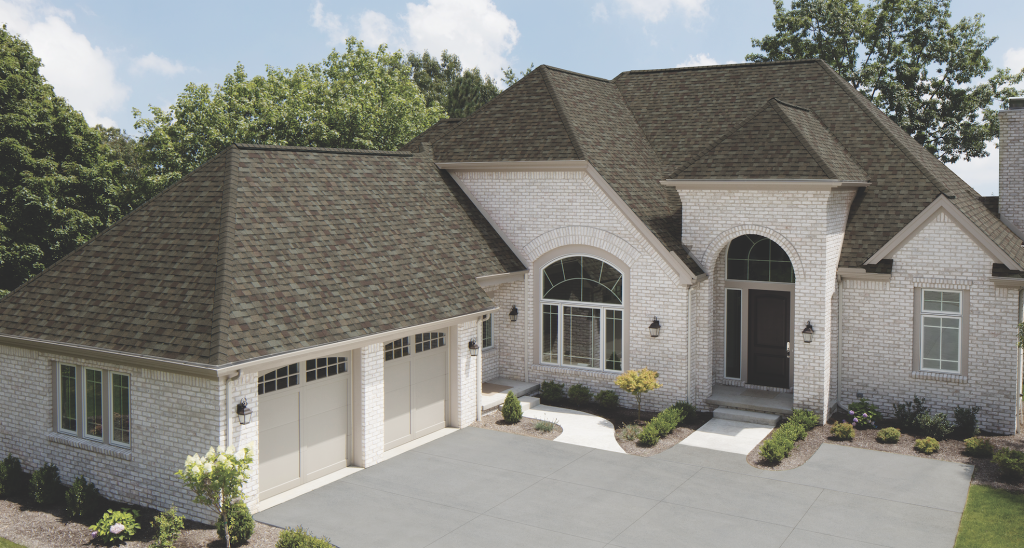 You may be wondering if Poly Shingles are worth the investment. There are lots of different roofing materials on the market right now and that can be pretty confusing without a little insight from professionals. Our team at Roofing World believes that Poly Shingles are one of the very best choices you can make. This particular shingle option is thicker and more durable against severe weather than traditional shingles. Even though it's similar in appearance to regular asphalt shingles, Poly Shingles have more impact protection than its counterpart.
Choosing Poly Shingles may also offer insurance discounts on your homeowners policy, a win-win!
Some Helpful Resources for Gulf Shores, AL residents: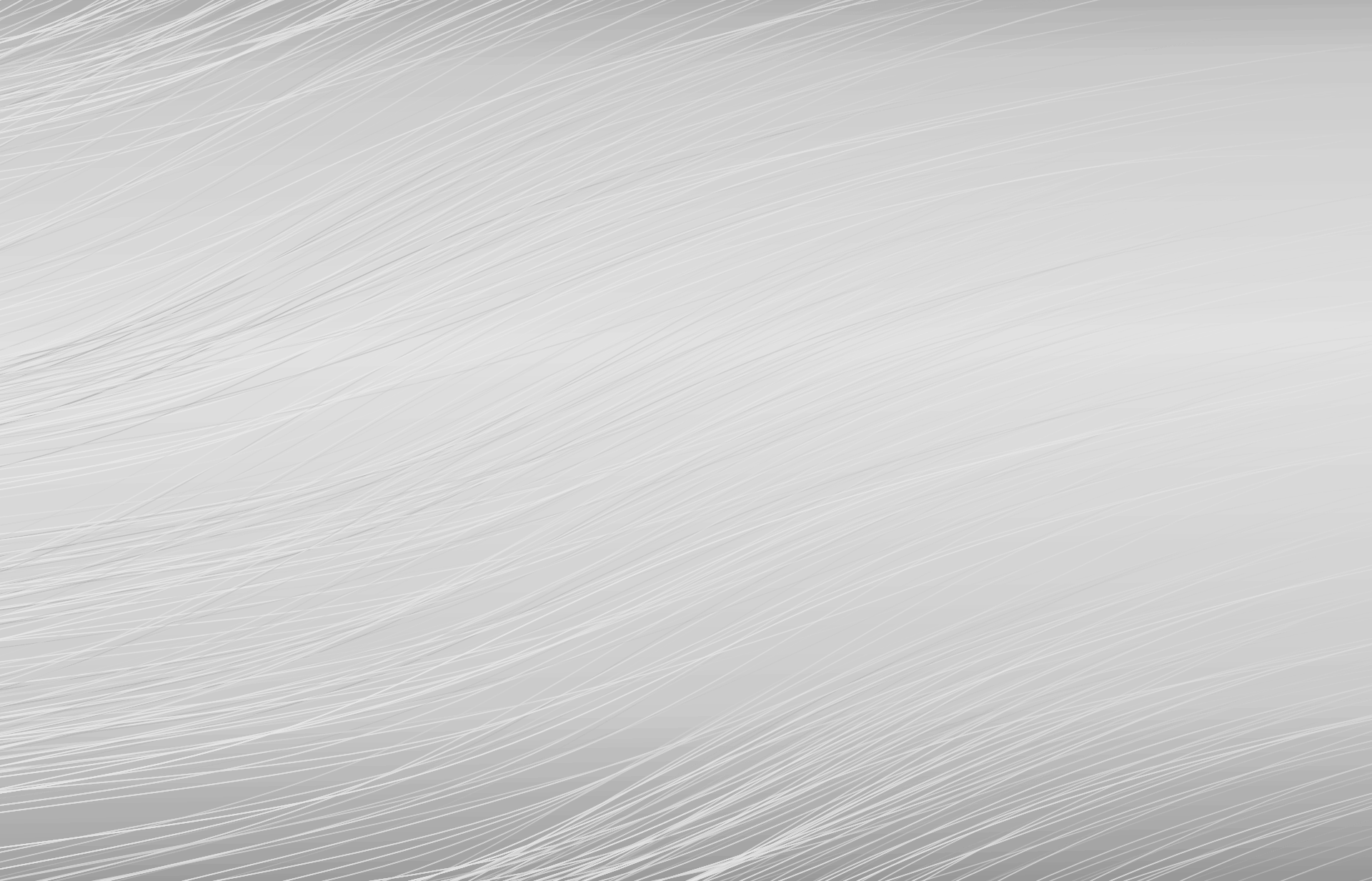 Our World Class Roofing Guarantees
Lifetime Guarantee
We offer an INDUSTRY BEST guarantee on products and installation for our Poly Shingle and Metal Roof Product lines. Contact us for full details.
Lowest Price Guarantee
We will beat any current regular, non-promotional written quote provided to Roofing World from any local competitor on any roof replacement – as long as it is an apples to apples comparison.
Transferable Guarantee
We are so confident in our World Class roof installation process that we will allow a one-time transfer of this guarantee within 3 years to the new homeowner.
Trusted Roof Replacement Contractor in Gulf Shores
Our talented team of professionals is ready to provide you with the highest quality service for your roof replacement or installation. Our team is trained and certified so you can always expect an accurate and thorough job done. Set up a roof consultation or inspection with our friendly staff for your next roofing project.
We understand how important it is to know that your home or property is in good hands. We guarantee that you'll be hiring the right team for all of your roofing needs.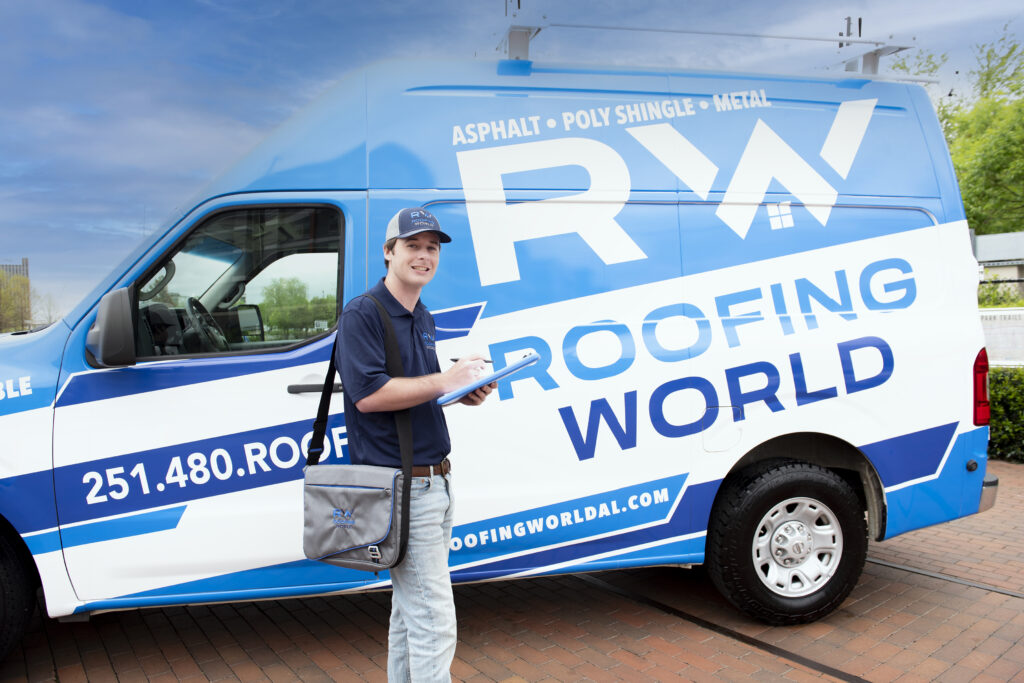 How can we Help you today?
5-star Roofing service in Gulf Shores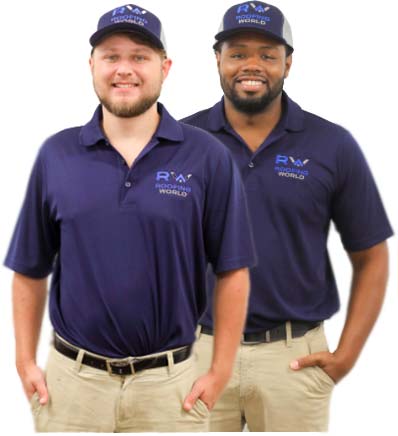 "Did a great job! were very fast and cleaned up everything. have already recommended to many of our neighbors."
Charles Guy
"Our roof looks amazing, and the work was done very quickly but professionally. Very pleased!!"
Ronald Young