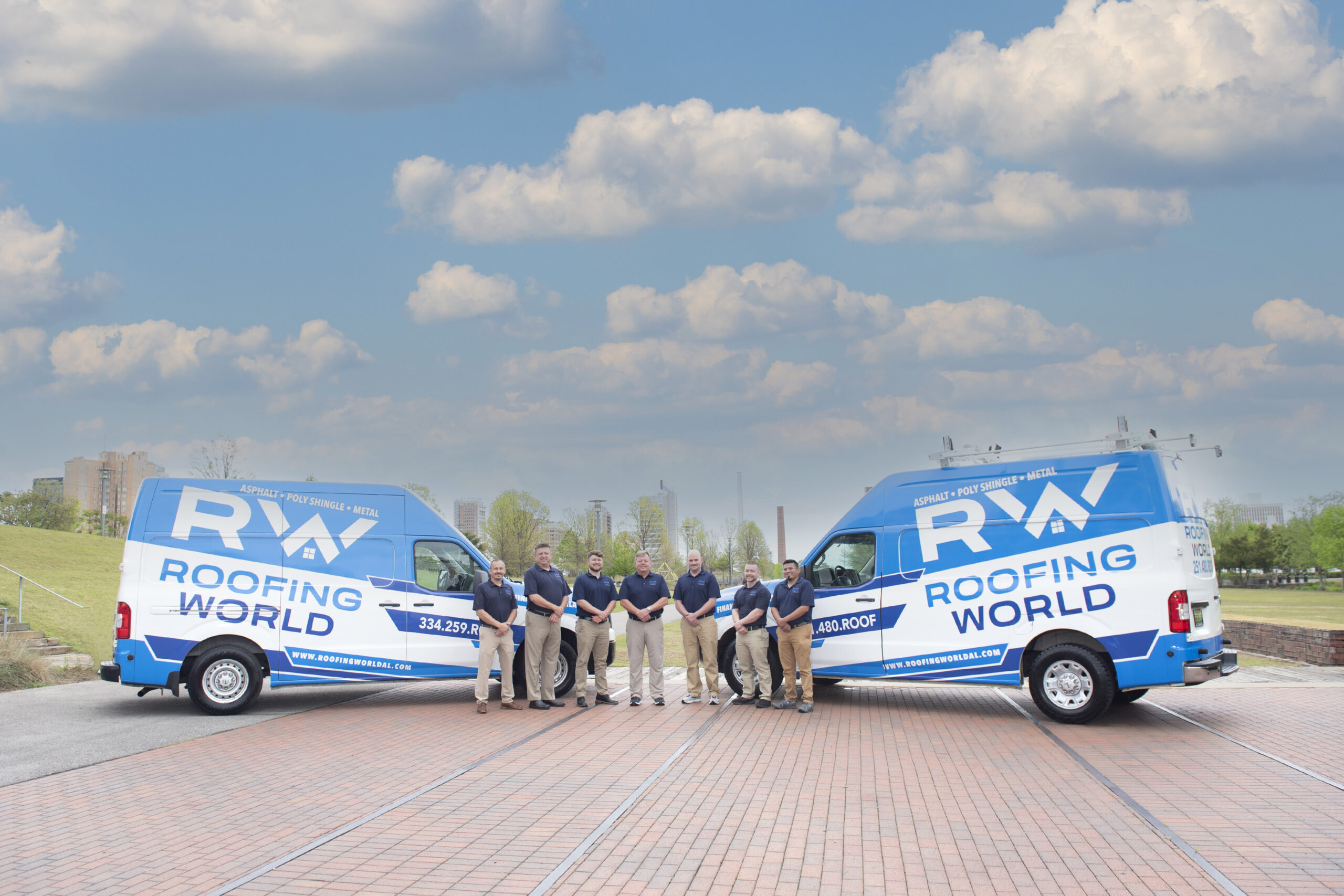 Asphalt Shingle Roofing Services in Alabama
Asphalt Shingle Roofing Installation
The most common residential roofing material is asphalt shingles. These are popular, budget-friendly, and dependable. They come in a variety of colors to match the style of your home.
There are some clear signs of wear and tear you should be aware of. The symptoms include:
Missing or curling shingles
Roof leaks
Rusted or broken gutters
Moss or vegetation growth
Storm damage
If you're not sure about the condition of your roof, you can call us and have a roofing expert inspect your roof.
Whatever the condition, you can count on us to provide you with a clear safety inspection and to perform any necessary work needed with your replacement roof. We stand behind our work with a lifetime warranty on labor with any of our World-Class Collection products, so you can rest easy that you are in good hands!
We Offer the Best Asphalt Shingles
We offer the #1 asphalt shingle available in the United States.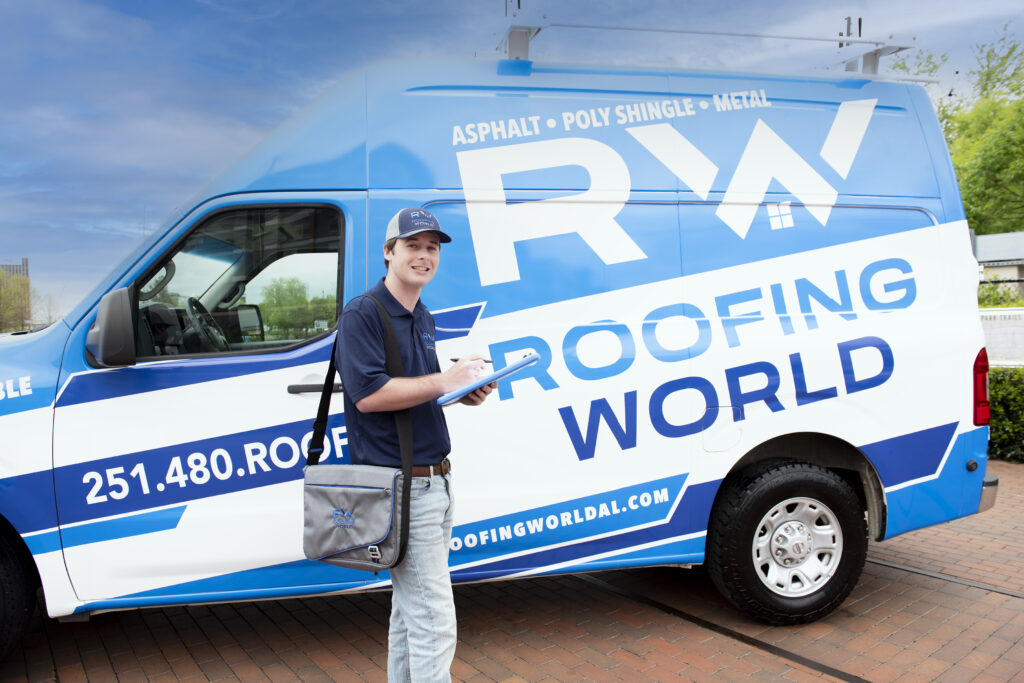 Personal Installation Manager
Roofing World's Professional On-site Project Manager
With you from start to finish on your new roof project
Meets with you prior to the start of your project to explain exactly what will be done.
Reviews with you our detailed project checklist, and keeps you informed and updated every step of the way.
Call us to schedule a proper roofing inspection. We'll discuss with you the available options you have. Once the replacement of your roof is completed, the value and appeal of your home will dramatically increase.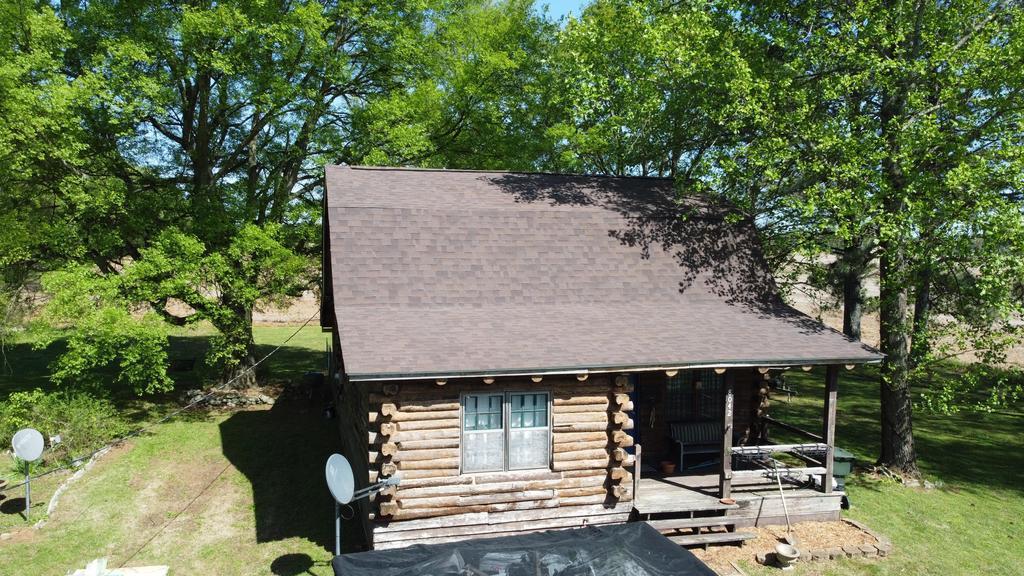 If it's time to replace your roof, consider asphalt shingles, the top choice for homes in Alabama. It's easy to see why asphalt shingles are so popular — they come in various shapes, colors, and forms, offer weather resistance, and are a cost-effective way to improve your home. Roofing World offers expert asphalt shingle installation and repair. Contact us for a free roof quote!
Roofing World is proud to offer the number-one asphalt shingle in the United States. We carry a variety of styles and colors, so you've got plenty of options. They're durable, versatile, and ideally suited to work with a variety of roof types in Alabama. Our knowledgeable staff will work with you to help you select the perfect match for your home.
Asphalt Roofing Services
Does your existing roof show signs of wear and tear? Are there missing or curling shingles? Does the roof leak? Has a storm damaged your roof? We offer a full range of asphalt roofing shingle services in Alabama to remedy the situation. Whether you need maintenance, repairs, or asphalt roof replacement, we have you covered.
Roofing World brings over 25 years of experience in roofing and construction services. We have completed thousands of roofing projects, so we know what we're doing! Our licensed and certified roofing experts use only top-quality products and offer the highest level of craftsmanship.
We specialize in providing a full range of professional roofing services, including:
• Roofing replacement
• Roofing repairs
• Roofing Maintenance
• Gutter installation
• Gutter guard installation
• And more
Roofing World serves the entire state of Alabama.
Asphalt Roof Replacement
Over time, Alabama's climate can take its toll on a roof. When there's too much wear and tear, water can leak into your home, leading to mold and other health problems. Installing a new roof can give your home a new lease on life. And more importantly, it can keep your family safe.
Do you have rusted or broken gutters? Have you noticed moss or vegetation growth on the roof? Is your existing roof an eyesore? Does your existing roof pose safety hazards for you and your family? If you answered "yes" to any of these questions, it may be time to replace your roof.
We take pride in our professionalism and aim to treat every customer with integrity and courtesy. You don't have to live with an old, deteriorating roof. With our budget-friendly World-Class Collection asphalt shingles, you'll have a beautiful, durable roof for years to come.
Not sure about the condition of your roof? Contact us, and we'll have one of our roofing experts inspect it. You can count on Roofing World!
Asphalt Shingle Roof Installation
When you're ready for a new roof, our professional on-site manager will discuss all your asphalt shingle options, including available colors, forms, and styles. Once you've decided, our crew will arrive on time and ready to get to work. Our industry-leading installation process begins by reviewing our detailed project checklist with you. We'll always keep you informed and provide updates during the entire process.
The installation process includes the following steps:
• Removing and completely stripping off the entire old roof
• Inspecting the roof deck.
• Making any necessary repairs to the roof deck
• Laying down an underlayment
• Installing the roof flashing
• Installing the asphalt shingles
• Cleaning up all roofing debris
Our roofing experts take great care to ensure your new roof is an ideal match for your home. Our crews have years of experience, and we stand by our craftsmanship. We offer lifetime warranties, so you're in good hands!
Advantages of Asphalt Shingle Roofing Services in Alabama
For an affordable, durable, and aesthetically pleasing roof, choose an asphalt shingle installation from Roofing World. This material withstands harsh weather conditions and is energy-efficient — a win-win for homeowners in Alabama!
Roofing Alternatives for Homes in Alabama
While asphalt shingles are an excellent option for homes in Alabama, we also offer other roofing materials. Another popular alternative for roofs is metal. Like asphalt roofs, metal roofs are eye-catching, strong, and durable. So be sure to check out our metal roofing services to see if you might prefer this option.
Poly shingles are another alternative. They're modern, resilient, flexible, and thermal- and crack-resistant. Check out this page to learn more about our poly shingle roofing services, and feel free to ask us any questions!
Are you looking to replace a commercial roof? Companies and industrial properties throughout the state choose our Thermoplastic Polyolefin (TPO) roofing services. TPO is cost-effective, durable, and energy-efficient.
Why Choose Roofing World for Asphalt Shingle Roofing Service in Alabama?
At Roofing World, we know that quality matters. That's why we offer the best quality products at the best prices. We're dedicated to 100% customer satisfaction, and our teams have the knowledge and expertise to do the job right. Join the many satisfied customers throughout Alabama who have trusted us to install their roofs. Find out what they have to say about our work — check out our Roofing World customer reviews!
Are you ready to upgrade your roof? Time for immediate roof repairs? Don't wait. Contact Roofing World for a free estimate.
Asphalt Roofing Installations FAQs
How often should you replace an asphalt shingle roof?
If installed correctly, an asphalt shingle roof should be replaced every 20 to 25 years.
How do I know if my asphalt shingle roof needs replacing?
Look for signs such as cracked or mossy shingles, curling or missing shingles, and damage around chimneys or skylights.
How long does a shingle roof last in Alabama?
Roofs will typically last about 20 years in Alabama. However, weather and general wear and tear can damage roofs. Some homeowners may want to replace their roof with a more aesthetically pleasing one.
What's the difference between asphalt and shingle roofs?
The main difference is lifespan. Composite shingles tend to have a longer lifespan than asphalt shingle roofs.