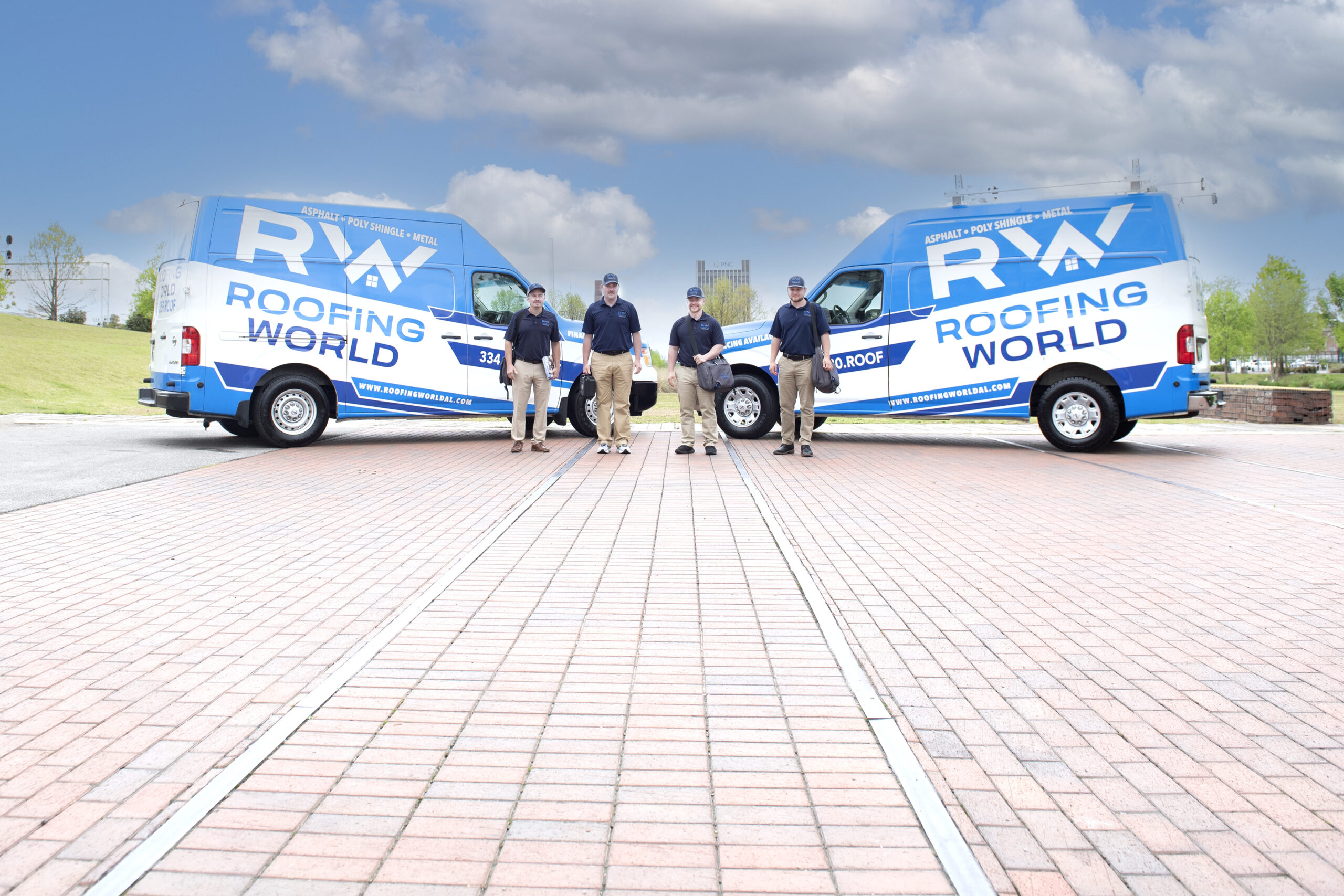 Poly Shingle Roofing Installation in Alabama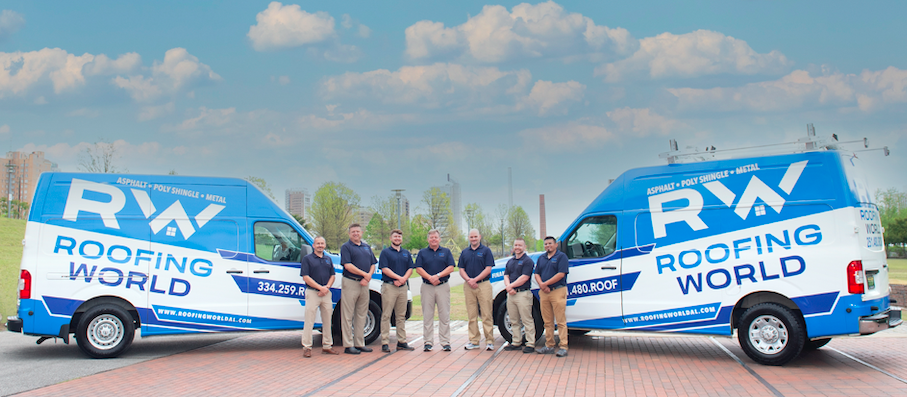 Poly Shingle Installation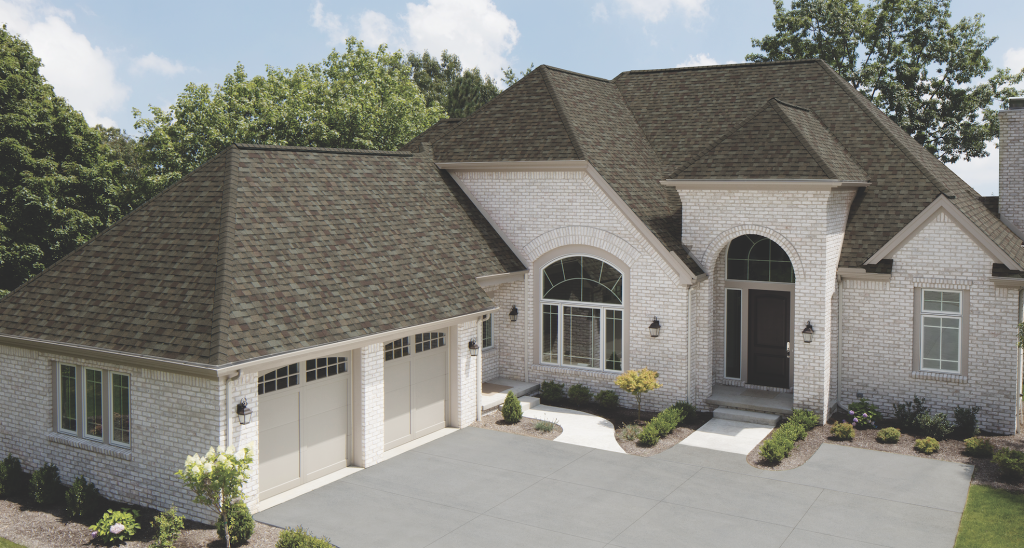 Poly Shingles are a great alternative to asphalt shingles. Poly Shingles have the look and beauty of asphalt shingles while also having durability similar to metal roofs. These shingles are more durable and more resilient against inclement weather than traditional asphalt roofing shingles. Poly Shingles are a great choice for many homeowners because they are flexible, thermal-resistant and crack-resistant.
Alabama's Trusted Roof Replacement Experts
Our Poly Shingles are the best roofing shingle available in the United States. They are algae resistant and engineered to reduce smog! The shingles reduce air pollution with their 3M™ Smog-Reducing Granules that harness sunlight to photocatalytically convert smog into water-soluble ions – actively reducing smog air pollution!
When you schedule your roofing project with Roofing World, you can trust that we will arrive on time and ready to perform the necessary roof inspection. Our roofing inspection is the first step in determining exactly what needs to be done replace your roof.
Once the scope of your roofing project is clear, we will perform the necessary work to a very high level of craftsmanship. We use the best roofing techniques in the industry and only use high-quality materials so that the job is done right the first time.
Why Choose a Modern Roof shingle to replace your existing roof shingle?
When your roof needs to be replaced, you should consider Poly Shingles. They come in a wide range of colors and are more durable than asphalt shingles. They can even increase the value of your home and even reduce your home insurance rates!
Poly Shingles are Performance Engineered
All-Weather Performance
Resists Impact
Resists Algae
Resists Fire
Poly Shingles are Environmentally Designed
Reduces Smog
Upcycles Materials
Lasts Longer
Cleaner Manufacturing
Less Waste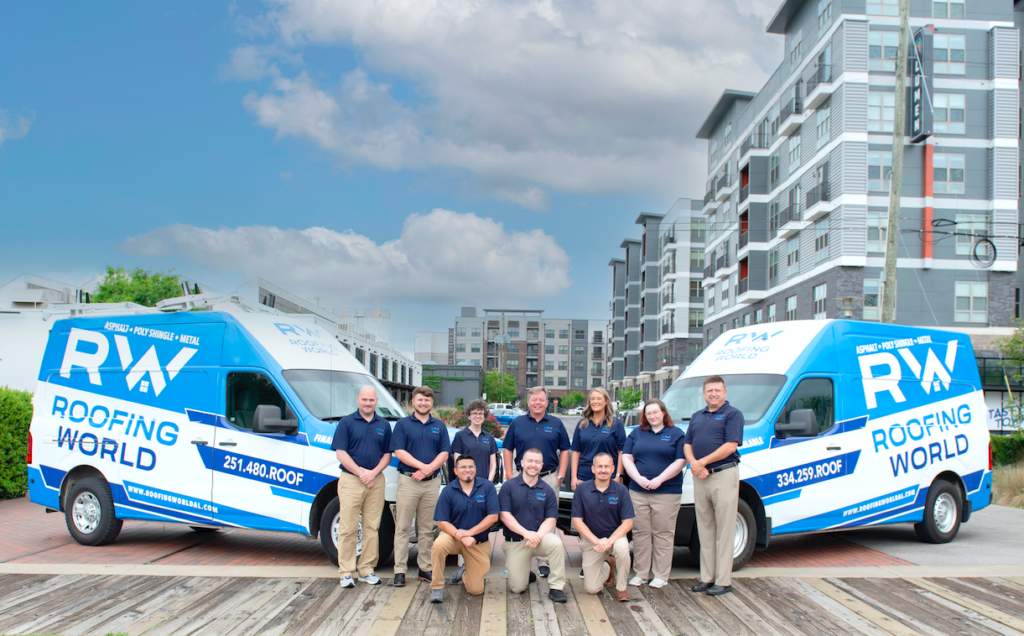 Is it time to replace your home's roof? Polymer shingle roofing is an excellent choice — it's designed to withstand Alabama's inclement weather patterns; it's durable, flexible, and crack-resistant; and it comes in various color options. And when it comes to poly shingle roofing installation in Alabama, no one beats Roofing World's expertise. We've been putting new roofs on homes for over 25 years!
Contact us for a free roof quote!
Poly Shingle Roofing Services in Alabama
Are you interested in a poly shingle roof but not quite sure what makes the material different from other roofing materials? Here's what you need to know: Poly shingles are made of an admixture of asphalt and polymers like styrene-butadiene-styrene (SBS). This combination makes for a more robust and durable shingle than asphalt shingles. Plus, they're made from upcycled materials, so they're better for the environment.
Poly roofing panels are an excellent option for homeowners that want a modern roof style that can also keep their families safe. Poly roofing can resist lightning strikes and not catch fire. These shingles can also withstand impact and algae, which means they can handle Alabama's hot and humid summers and occasional hailstorms.
Roofing World brings over 25 years of experience in construction and roofing services, so you can count on us to do the job right. Using only the highest quality materials, our licensed and certified roofing experts have completed thousands of roofing projects throughout Alabama.
We specialize in providing a full range of professional roofing services, including:
Roofing replacement
And more
Roofing World serves the entire state of Alabama.
The Process of Poly Shingle Roofing Installation in Alabama
When you're ready to upgrade your roof, our friendly and professional on-site manager will discuss all your poly shingle roofing options. We offer the best poly roofing materials available in the United States, with plenty of colors and styles available, including those that mimic the look and feel of natural materials like wood and slate.
Once you've decided on a color and style, our crew will arrive on time and ready to get to work. We'll begin our industry-leading installation process by reviewing our detailed project checklist with you. You'll always be in the loop with updates during the entire process.
The poly shingle roofing installation process includes the following steps:
Removing and completely stripping off the entire old roof
Inspecting the roof deck
Making any necessary repairs to the roof deck
Laying down an underlayment
Installing the roof flashing
Installing the poly shingles
Cleaning up all roofing debris
When it comes to installing poly shingle roofs correctly, experience matters. The last thing you want to deal with is a roof that leaks or doesn't last as long as it should. Our crews have years of experience, and we stand by our craftsmanship. You can count on our experts to ensure your new poly shingle roof perfectly matches your home. We offer lifetime warranties and aim to make the entire process hassle-free!
Benefits of Polymer Roofing Shingles
Are you considering poly shingle roofing installation in Alabama? Here are some of the many benefits of polymer shingles:
Made from upcycled materials
Need very little maintenance
Resilient
Less likely to catch fire
Durable and long-lasting
Eye-catching and modern
Available in many different styles and profiles
Manufactured to mimic the look of wood shakes, stone tiles, and traditional asphalt shingles
Crack-resistant
Alternatives to Poly Shingle Roofing Styles
A professional poly roofing installation in Alabama is an ideal option, but we offer other alternatives to polymer. Metal roofs are a popular alternative — like polymer shingles, they're durable, strong, and aesthetically pleasing. Check out our metal roofing services to see if this is the right option for your home.
Asphalt shingles are another excellent budget-friendly option. They're aesthetically pleasing, energy-efficient, and can withstand harsh weather conditions — they're great for any residential rooftop in Alabama. Check out this page to learn more about our asphalt shingle roofing services, and feel free to ask us any questions!
Do you need to replace a commercial roof? Industrial and commercial properties throughout the state use our TPO roofing services. Thermoplastic polyolefin (TPO) is a cost-effective, durable, and energy-efficient option.
Choosing the Right Poly Shingle Roofing Company in Alabama
Roofing World is your best choice for poly shingle roofing installation in Alabama. We know that quality matters; that's why we offer all our customers top-of-the-line products at the best prices. Our entire team is dedicated to 100% customer satisfaction — find out what our many satisfied customers have to say about our work by checking out our Roofing World customer reviews.
Are you ready to enjoy the benefits of a new poly shingle roof? Contact Roofing World for a free estimate!
Poly Shingle Roofing Installation FAQ
What is a polymer shingle?
Most polymer shingles are created from an admixture of asphalt and polymers like styrene-butadiene-styrene (SBS) and are designed to be more resilient than asphalt shingles. This mixture makes them more resilient to weather conditions, durable under stress, and long-lasting.
What are polymer shingles made of?
These shingles come from engineered materials, typically containing a mixture of recycled rubber and plastics.
How long does a polymer roof last?
A polymer roof can last up to 30 years.
What is polymer roofing?
Polymer or composite roofing are synthetic products manufactured from various plastics and resins. They are manufactured to look identical to wood shake, stone slate, wood shingle, or clay tiles products. Synthetic products like poly roofing panels are typically cast from molds or 3D images of raw natural materials.
Lifetime Warranties
We stand behind our work with Lifetime Warranties on materials aND labor on any of our World-Class Collection Products
Most roofing companies offer one to three years of workmanship warranties but Roofing World stands behind its work for as long as you live in your home with our World-Class Collection.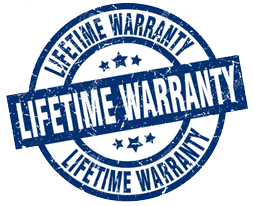 As a homeowner, the most important thing that you should understand are the different warranty coverages:
Product Warranty – The manufacturer covers the product against defects in the material.
Workmanship Warranty – This covers issues that occur because of the labor & workmanship.
Roofing World covers both product and labor warranties which means less hassle and frustration for customers.