Residential Roofing Services by Roofing World in Alabama
Biggest Selection, Lifetime Warranty, Best Prices…
Guaranteed!
Our Roofing Services
When you choose Roofing World for your roof replacement, we have developed a world-class roofing process that results in a durable high-quality roof. Click an image below to learn more about our services.
Here's what you can expect at our first meeting:
World Class Inspection
Our roofing experts will thoroughly inspect your existing roof.
Discuss Installation Process
We then sit down together and review the inspection results and then explain each step of our replacement process.
Design Consultation
We'll discuss the various materials and the pros & cons of each one. Once you decide on a material, you'll then select a color that compliments your property.
Funding Options
We accept cash or checks as well as offer over 100 different financing plans.
Schedule
Finally, we are ready to schedule your roof replacement! We'll work with your schedule to ensure the least disruption to your daily life.
Time to replace or repair your roof? Snow, winds, precipitation — these elements can take their toll on a roof. A sturdy, durable roof adds structural support and protects your home from the elements. Roofing World can protect your home with expert roofing services in Alabama. Get a free roof quote!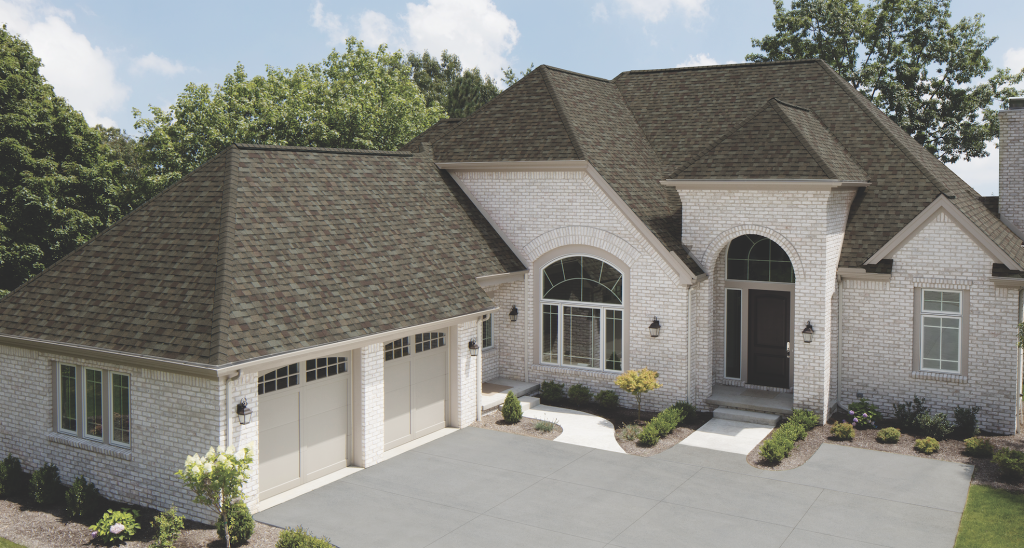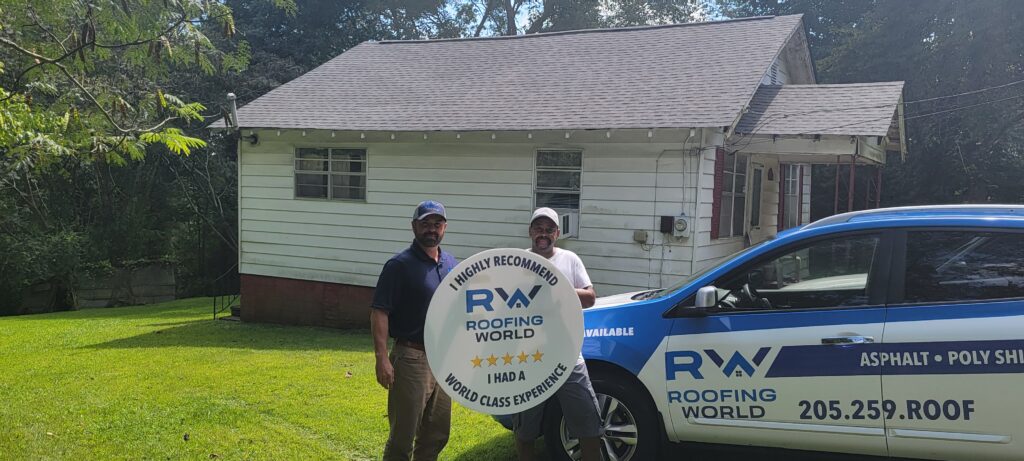 Roof Installation
When you choose Roofing World for your roof replacement, you'll get an appointment with us right away. You can trust us when we say that when your appointment time arrives, we will show up on time and on schedule. Because we prioritize customer satisfaction, we take extra care to make sure that every step goes as smoothly as possible.
Our World Class Process
Step 1
Protect & Remove
We use tarps and other preventive measures to ensure that your home remains safe during the tear off. We will take the roof completely down to the decking to inspect the substrate's condition. We don't do layovers! (They are cheaper, but simply push off problems to a later date.)
Step 2
Reinspect & Repair
Once the roof is torn off, we will reinspect for damage and repair any bad decking we find that was obscured by the existing roof. We make sure your new roof has a solid foundation that will last!
Step 3
Professionally Install the Roof that you designed
We lay a Storm Shield that is self-adhering to the underlayment for high water flow areas. Then we put on a synthetic waterproof underlayment that is lightweight and tear-resistant. If applicable, we install a ridge vent to allow air flow and finally we apply the roofing material you selected.
Your Personal Installation Manager
Roofing World's Professional On-site Project Manager
With you from start to finish on your new roof project
Meets with you prior to the start of your project to explain exactly what will be done.
Reviews with you our detailed project checklist, and keeps you informed and updated every step of the way.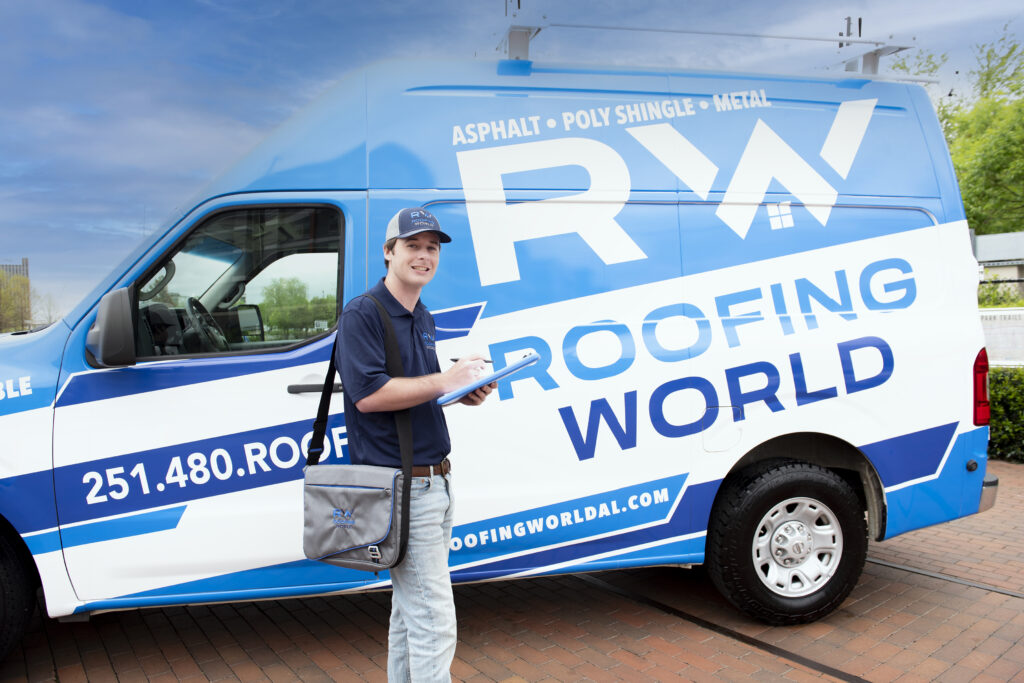 Residential Roofing Services in Alabama
Are you searching for roof replacement services? Roofing World provides a full range of roofing services throughout Alabama. Replace your roof with one that can last for decades — our team of roofing experts comes to your home equipped with high-quality materials and the expertise required to replace your existing roof. 
A roof upgrade can improve curb appeal and increase your home's value. And for as long as you live in your home in Alabama, you'll get lifetime warranties on material and labor.
We offer the following roof replacement options:
Asphalt shingles: an affordable roofing material that can withstand the elements. Asphalt shingles will never rust, can be replaced, and come in various colors and styles.
Poly shingle: a mixture of asphalt and polymers. Resilient to a variety of weather conditions, including strong winds and storms.
Metal: metal roofs are durable and will never ignite if lightning strikes or wildfires occur. They're durable, environmentally friendly, and energy efficient.
Tile: tile roofs hold their color and maintain their beauty. They're available in a multitude of colors and shapes. Tile is a solid water-resistant option that resists wind, fire, frost, and insect damage.
Our roof replacement process begins with an assessment of your roof. From there, we'll safely remove your existing roof, using preventative measures to ensure your home is safe during the tear-off.
The roof removal process includes the following steps:

Completely strip off the existing roof
Reinspect the decking, make necessary repairs, and ensure a solid foundation for the new roof
Lay a storm shield
Put on a lightweight, tear-resistant, synthetic, and waterproof underlayment
Install a ridge vent (if applicable)
Apply your selected roofing material
When you have your roof replaced by Roofing World, you'll reap a variety of benefits, including:

Helps insulate your home and increases energy efficiency
Improves curb appeal
Increases the value of your home
Adds more protection for your home and family
Can give your home a more dynamic design
May also reduce your home insurance rates
Is your roof in need of repair? Don't wait! Water can damage your roof and the inside of your home. We can repair loose shingles, patch entire sections, and more. Our teams have years of experience and know how to fix all types of roofs.
Professional Roof Inspection and Maintenance
Need to be sure of the condition of your roof? With professional roof inspection and maintenance from Roofing World, you can protect your investment and keep your family safe. Early detection can find any problems with your roof, saving you money and headaches in the long run. 
Roofing World offers comprehensive roof inspection provided by a team of experts. Our professionals arrive on time, in uniform, and ready to inspect your roof. And if repairs are needed, you can count on our qualified roofing repair teams to do it right the first time. And unlike other roofing companies, we offer both product and labor warranties. We take pride in being the top pick for roofing services in Alabama. Don't just take our word for it — read our customer reviews!
New Roof Installation
Are you ready to upgrade your home? Start the home improvement project with a new roof! If your existing roof doesn't protect your home from water damage or weather elements, it's time to replace it. Roofing World's installers are experienced, fully licensed, trained, and ready to install a new roof you will love. We take pride in our attention to detail and use only the highest-quality materials.
Roofing World Offers a Variety of Material Options
If you're looking for a budget-friendly roofing installation, check out our asphalt shingle installation services. We use high-quality shingles and materials. 
Consider our poly shingle roofing services for a more modern look. Poly shingles are designed for all-weather performance and use upcycled materials.
Do you need a new roof on a commercial building? Roofing World provides TPO roofing services in Alabama to give your industrial or commercial property building a fresh look. TPO material is a cost-effective solution that can transform your roof into a durable, energy-efficient one! When you replace your roof, consider replacing your old gutters too. Stay safe and hire the experts. We offer professional gutter Installation to protect your home. We also provide professional gutter guard installation to keep debris like pine needles, leaves, and others from clogging your gutters.
Contact Us Today!
When you're ready to upgrade or need high-quality roofing repairs done right the first time, contact Roofing World for a free estimate!
Residential Roofing Installations FAQs
How can I reduce my roofing cost?
Check whether you can file an insurance claim and watch for quality roofing materials on sale. But beware of roofing contractor scams. Hire only the most reputable roofing company in town, Roofing World!
How many years should a new roof last?
You should get about 25 years from a standard 3-tab asphalt shingle roof. Adequate ventilation and professional installation play a significant role in its lifespan.
Should you replace the roof or siding first?
Replace the roof first. Here's why: if the siding is replaced first, the roof installation process might damage the siding. Once installed, the new siding and roof will provide your home with many benefits.
Is a 20-year-old roof bad?
To home insurance companies, a roof becomes "old" or "bad" after about 15 to 20 years. Some roofing materials, such as metal or clay tile, have a longer lifespan, but most standard shingle roofs cap out at 20 years old.
Lifetime Warranties
We stand behind our work with Lifetime Warranties on materials aND labor on any of our World-Class Collection Products
Most roofing companies offer one to three years of workmanship warranties but Roofing World stands behind its work for as long as you live in your home with our World-Class Collection.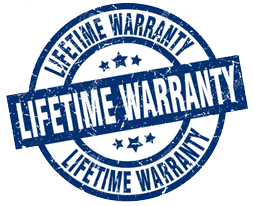 As a homeowner, the most important thing that you should understand are the different warranty coverages:
Product Warranty – The manufacturer covers the product against defects in the material.
Workmanship Warranty – This covers issues that occur because of the labor & workmanship.
Roofing World covers both product and labor warranties which means less hassle and frustration for customers.
Here's What Our Client Say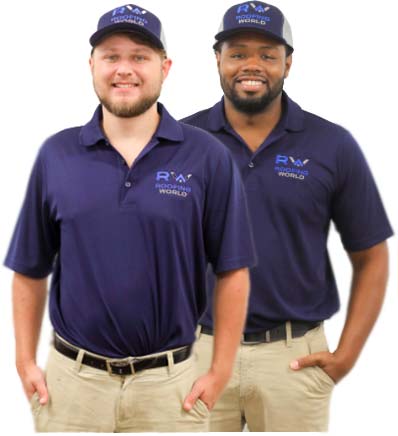 "Did a great job! were very fast and cleaned up everything. have already recommended to many of our neighbors."
Charles Guy
"Our roof looks amazing, and the work was done very quickly but professionally. Very pleased!!"
Ronald Young