Roofing Contractor in Cullman
Roofing World has the Biggest Selection, Lifetime Warranties & Best Prices… Guaranteed!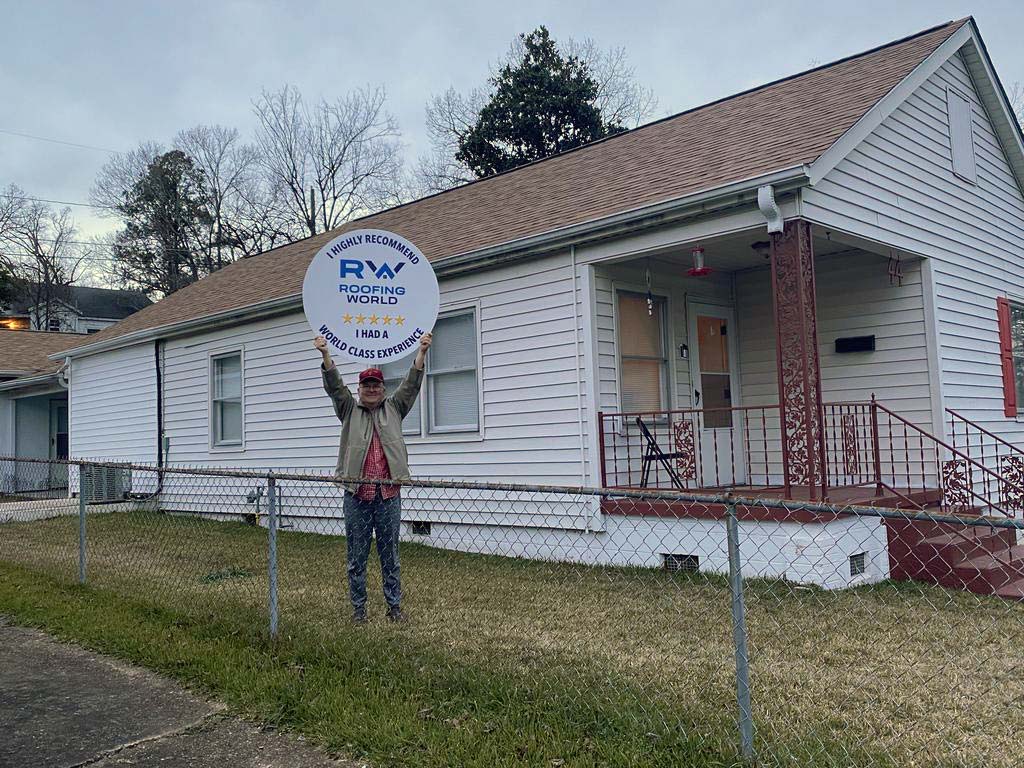 We Are Cullman's #1 Local Professional Roofer
If you need work done on your roof, make sure you hire a trained professional. Our team at Roofing World offers a large selection of services and material choices for our clients including:
Asphalt shingles
Poly Shingles
Rib panels
TPO
Gutters
Gutter guards
and much more
Have a metal roof on your property that needs to be replaced? We are here to help! Our team of professionals only uses high-quality materials and a proven installation process, which is not something you'll get with other contractors. Contact the best roofing contractor in Cullman, AL today, by calling 205-259-7663 and we will get started on your next project.
We Offer The Very Best in Metal Roofing Standards
There are many different kinds of metal roofs on the market and we are here to help you make the best decision. Our metal roof options offer customers peace of mind with the longevity and durability they hold.
Being a popular choice among many homeowners, metal roofing has a lot of benefits. They are able to endure severe thunderstorms and high-speed winds. They are capable of lasting 50+ years as well. In addition to protection and durability, metal roofs come in a variety of colors and designs that can be customized to fit your specific home's style.
When you choose us for your roof project, you will get the very best we have to offer. Our team provides top-notch service and the best metal roofing in Cullman, AL. Get started on your roof project by setting up a consultation with our knowledgeable staff.
Helpful Resources for Cullman, AL residents: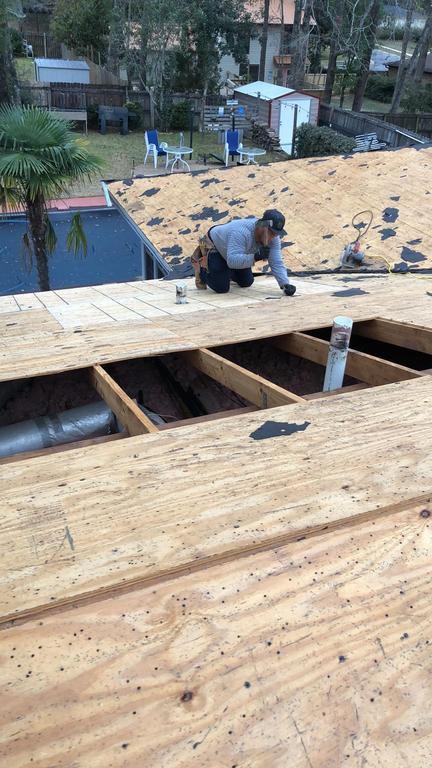 Asphalt Shingles Vs. Poly Shingles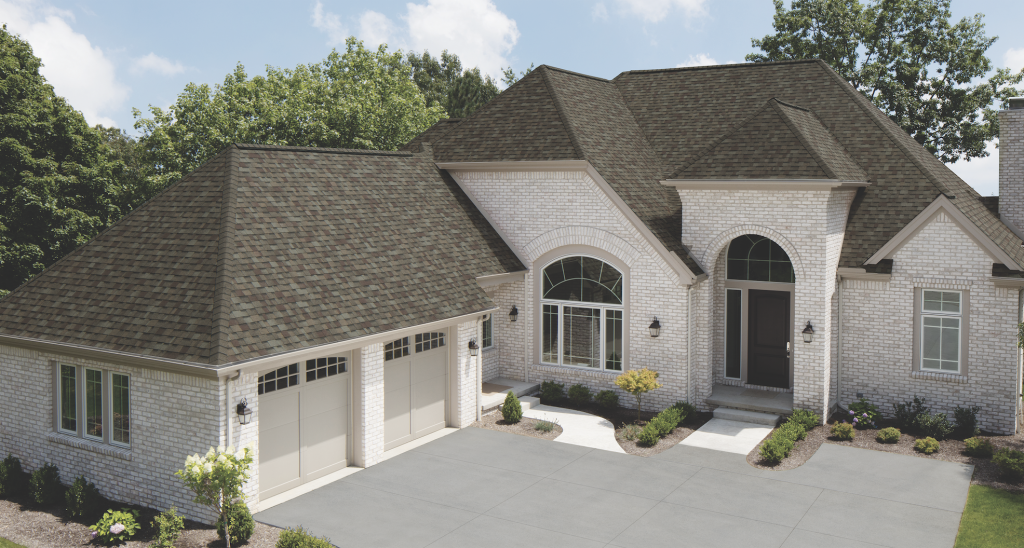 Poly Shingles are a far superior alternative to asphalt shingles. Asphalt shingles are on the more affordable side but Poly Shingles are more durable and more resilient in the face of inclement weather.
There are lots of roofing materials on the market and it can be confusing to choose the correct one for your home. Our team is here to help every step of the way. We highly recommend Poly Shingles. Compared to their asphalt counterpart, Poly Shingles have more impact protection and a longer lifespan.
Cullman, AL's Trusted Crew for Roof Replacements
At Roofing World, our mission is to provide customers with an industry-leading roofing system. It's our number one priority that you and your family have a safe roof over your heads. No matter the weather, you should never have to worry about your roof's performance. If you aren't 100% confident in your roof's reliability, please call us for a proper roof inspection. This roofing inspection will help to yield a prognosis for any current roofing issues that need to be fixed. Once you and our team have decided on the best course of action for your roof, we will administer all necessary work.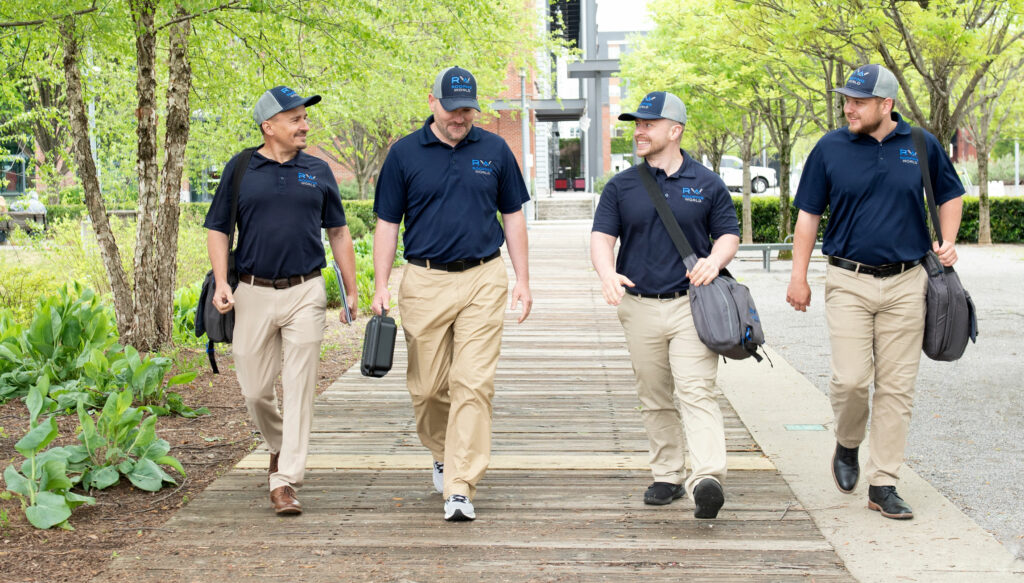 When it comes to installing or repairing a roof, experience matters. After all, your roof protects your home or business, and an inexperienced crew can put you at risk. Roofing World has you covered — we bring over 25 years of industry-leading experience to every project. Our highly trained and licensed roofing contractors in Cullman are prompt, reliable, and ready to improve your home or business with a new roof you'll love!
Time for a new roof? Get a free quote today!
Roofing World: Roofing Contractors You Can Trust
A new roof is a big investment, so don't leave roof installation and repairs to just any roofing contractor. Go with a local roofing company that prides itself on professionalism — Roofing World! You can depend on our team to arrive promptly and get the job done right, using the best quality products available.
And if you need help determining which type of roof you need for your property, our friendly staff can help you choose a material and style that's best for you. Roofing World is committed to finding you a quality, long-lasting roofing solution at an affordable price. 
We look forward to installing a new roof that keeps your family safe and adds curb appeal. Find out why thousands of satisfied customers throughout Alabama trust us with their roofing needs — read our Roofing World customer reviews!
Asphalt Roofing Installation in Cullman
Asphalt roofing is budget-friendly and available in various styles and colors, but not all asphalt shingles are created equal. At Roofing World, we use only the most durable, highest-grade asphalt shingles that look great on any property. Our experienced roofing contractors in Cullman can install a new asphalt roof that looks great and can endure Cullman's unpredictable weather conditions.
Metal Roof Installation in Cullman
When it comes to durability, you can't beat a metal roof. Metal roofs will not catch fire or blow away during storms. They're rated to withstand severe winds and lightning strikes and protect against heavy rains, hailstorms, and more. Plus, they're energy-efficient and look great.
Call us today to find out how our licensed metal roof installers in Cullman can improve your property with a durable, stylish metal roof!
Poly Roofs in Cullman
Do you love the look of asphalt shingles but want something more durable and resilient to inclement weather? Try poly shingles. Many customers prefer poly shingles because they resist impact, algae, and fire, and they're available in a wide variety of styles and colors. Our roofing contractor in Cullman can install a poly shingle roof that lasts longer than asphalt shingles, offers more protection, and looks great!
A Trusted Roofing Contractor Near You
Whether you want to replace an outdated roof or need your roof inspected for repairs, you can count on our roofing contractors in Cullman. Roofing World provides experienced and highly trained crews to replace, repair, or upgrade your home with the best quality products in the industry. Contact Roofing World for a free estimate!
Lifetime Warranties
We stand behind our work with Lifetime Warranties on materials aND labor on any of our World-Class Collection Products
Most roofing companies offer one to three years of workmanship warranties but Roofing World stands behind its work for as long as you live in your home with our World-Class Collection.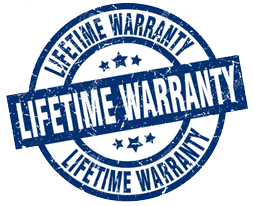 As a homeowner, the most important thing that you should understand are the different warranty coverages:
Product Warranty – The manufacturer covers the product against defects in the material.
Workmanship Warranty – This covers issues that occur because of the labor & workmanship.
Roofing World covers both product and labor warranties which means less hassle and frustration for customers.
Every Cullman resident receives 5-Star Service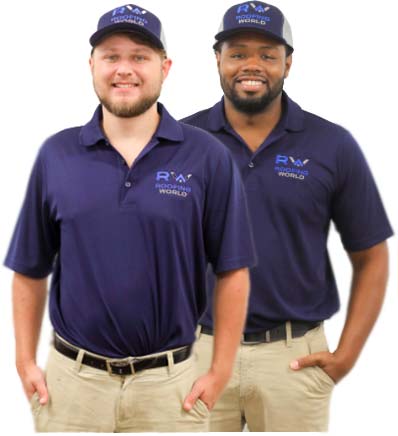 "Did a great job! were very fast and cleaned up everything. have already recommended to many of our neighbors."
Charles Guy
"Our roof looks amazing, and the work was done very quickly but professionally. Very pleased!!"
Ronald Young
Roofing World had by far the best price and quality product available. I live on a fixed income and didn't think that I could afford a new roof. RW's professional appraiser came out and discussed all of my options and was able to get me set up with financing that day. The old roofing had to come completely off and they replaced some decking as well. The team of professionals were able to complete the entire project in a single day.
– Phil Ozbolt
Very Professional. Fast installation. Great help with the paperwork needed to update Homeowner's Insurance.
– Richard Green
By far the best experience, the best knowledge, the best workmanship, and they did everything they said they would plus they went the extra mile! Watch out competitors I'm willing to bet these guys will erase some of you before the end of the year with little or no effort! Integrity, kindness, and honesty is resurfacing in Bham AL! Great things are on the way!!
– Sterling Ross